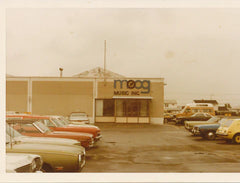 A Brief History 
The original R. A. Moog factory was in Trumansburg New York. It was at this location the modulars were built and the Minimoog invented. In 1971, this enterprise was purchased by a venture capitalist, Bill Waytena who had formed the electronics company Musonics. Waytena moved the Moog factory from Trumansburg to Williamsville, near Buffalo New York. In 1973 Moog Music was taken over by the musical instrument giant Norlin, which also owned (among other brands) Pearl drums, Gibson guitars, and Armstrong flutes. (Details sourced from Analog Days, Trevor Pinch and Frank Trocco, Harvard University Press, 2002)
At the time of this visit, I worked for Gibson guitars and when traveling to the east coast, a tour of the Moog factory was arranged for me. There were no restrictions placed on my ability to photograph, which resulted in pictures that include the R&D process.
The Polymoog was in production. R&D efforts were underway for what would eventually become the Memorymoog. The blackboard was in an R&D room that contained circuit boards patched together. Some of the circuits looked to be Polymoog in origin, and some appeared to be parts of a Moog modular. My sense was they were developing an instrument that carried the essence of the Minimoog expressed in a polyphonic form that expanded the capabilities of the Polymoog. The pictures of drawings are concept drawings of the Memorymoog.
-William Beith