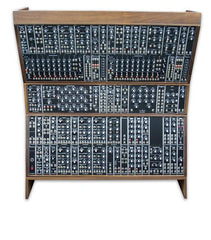 Walnut Studio Systems
Beautiful, pre-configured, yet customizable. With 22-, 44-, 66-, 88-, even 110-Space systems available, we have a studio system for everyone.
MP Wrote: I just received my Studio 44. What a beautiful machine! I can't wait to start making music with it. Thank you for packing it so well. It easily withstood the trip from Texas to Canada.
Shop Collection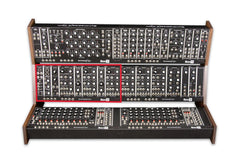 Box11 Systems
Box11 cabinets allow you to go from essential to eccentric. Our unique design allows stacking in many different configurations.

Select from our pre-configured systems or dream up your own. Add a touch of class with our walnut sides or drop into our foldable, patch-and-go cabinet to take on the road.

► For the studio or live performances
► As small or as large as you want
► Stack cabinets in unlimited configurations

MG Wrote: My first modular purchase was a Box11E. Just got my second with a 960 Sequencer, Thank You Santa!
Shop Collection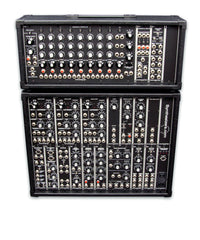 Portable Systems
Portable systems offer rugged construction along with the
flexibility only a modular can provide. Available in several
standard configurations, or create your own.
► 11 and 22-space cabinets
► Strong MDF (Fiberboard) construction
► Rugged Vinyl/Metal Hardware
► For the studio or live performances
► Control with MIDI or Pitch/Gate signals
► Optional hinges and latches, and lids

MW Wrote: Just got my portable 33 with optional lids. Travels well, looks great, built like a tank.
Shop Collection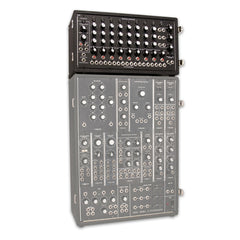 Moog Expansion Systems
Moog Expansion cabinets are designed to go along with Moog portable cabinets - vintage or modern.
Add modern features to your Moog modular such as a MIDI interface and quantizer, or just expand with extra oscillators, filters and mixers.
► Internal harness powers up to 8 Synthesizers.com modules.
► Matching lid and module mounting screws included
► Modules and power source sold separately.
► Back panel has our standard external DC power connector.
► Wrapped in Moog style vinyl
► Moog inspired hardware
Shop Collection
Rack Systems
Rack systems are built with our standard 19" rack frames,each being 5U high and providing eight module spaces.
► Strong all-metal construction
► 5U tall, 8 module spaces wide
► Module and frame screws included
► User must provide rack and enclose power supply
► Select a standard configuration or build your own
Shop Collection